March 13, 2017
ギュウちゃんこと篠原有司男さんの個展『我輩の絵にパンチが炸裂!』開催中!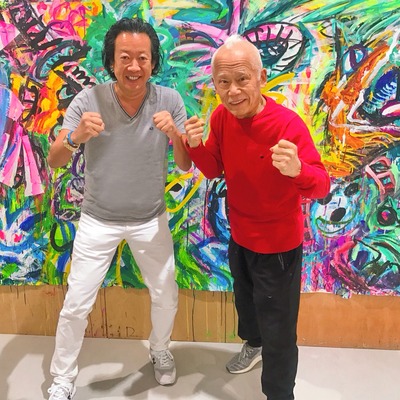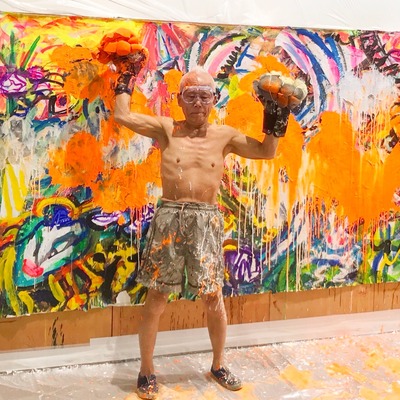 Ushio Shinohara solo exhibition 'Boxing Explosion on My Painting!'
— I do my Boxing Paintings from right to left, bam bam. I don't think at all about composition or nuances of paint handling. The speed of punching with boxing gloves on both hands with paint on them must coincide with the speed of thinking. Therefore, thinking becomes very limited. The hands are faster. So my hands lead my thoughts, not the other way around.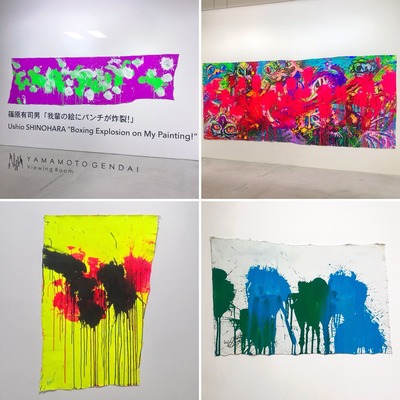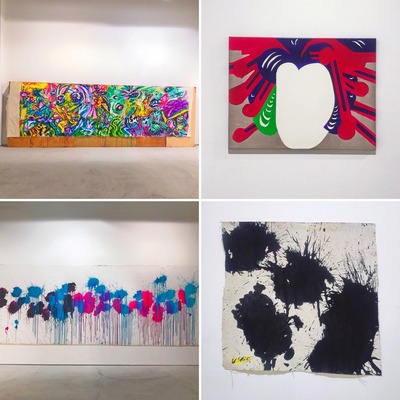 Gyu-chan!(Ushio Shinohara) was born in Tokyo in 1932.
He started his artistic career by participating in the Yomiuri Independent exhibition in 1955, while studying at Tokyo National University of Fine Arts and Music. In 1960s, during a social turmoil after the World War II, he was among a group of artists that formed the "Neo-Dadaism Organizers" where they agitated art and his works overturned common sense. As he took a leading role in the group, he enthusiastically showed his work Coca-Cola Plan (1966) under the same title Coca-Cola Plan by Robert Rauschenberg and Drink More (1964), also under the same title by Jasper Jones in a series of Imitation Art. Much discussed works from his Oiran Series that vibrantly painted faceless Japanese high-class courtesans were presented one after another with a mixture of his distinctive view of Japanese tradition and the expression inspired by American Pop Art.
Term: 2017/03/11 (Sat) – 04/22 (Sat)
Place: YAMAMOTO GENDAI