November 03, 2016
「ウアモウと大きな毛むくじゃらの怪物」 Ayako Takagi at VR Gallery by Sony Digital Entertainment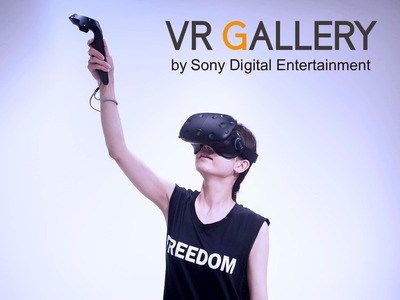 I'm happy to announce that Ayako Takagi created new VR art!
Please come over to the VR Gallery in Asagaya.
Title: Uamou and the Big Hairy Monster,
HTC VIVE - Google Tilt brush ver7. October ,2016
brought to you by Sony Digital Entertainment
Looking for his friends, Uamou wandered upon a world of infinite darkness.
Lost in his travels he comes across a very big monster with long hair and a luggish posture.
The big hairy monster had no kindness in his heart and used his terrifying magic powers to confine Uamou into a two-dimensional plane.
From his confinement Uamou looked around and discovers that many of his friends had been captured as well.
Just when all seemed lost, a bright light reveals large mysterious eye gazing fiercely into the darkness. It was from the midst of the eye that a confident, more experienced Uamou appeared.
It was Uamou from the future, here to free everybody from the monster's dreaded curse.
「ウアモウと大きな毛むくじゃらの怪物」
ウアモウたちはどこまでも広がる真っ暗闇の世界に迷い込んでしまいます。
そこには大きな大きな毛むくじゃらの怪物が住んでいました。
怪物は恐ろしい魔法の力でウアモウたちを平らな絵にして閉じ込めてしまいます。
あたりを見渡すと、ほかにも絵の中に閉じ込められてしまった仲間たちがたくさんいます。
そんなようすを暗闇の中に浮かぶ不思議な目がぼんやりと覗いています。その目の中にいたのは未来からやってきたウアモウでした。
さあウアモウは仲間たちと力を合わせてみんなを救えるのでしょうか。
http://vr-gallery.jp/